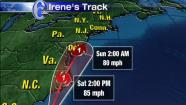 Hi All. Sorry I haven't been on much, but I live on the east coast and we are expected to get hit by Irene later this weekend. I spent most of the day preparing: cleaning the basement and making sure things were up off the floor in case of flooding, getting all the furniture, etc off the deck and in the garage, making sure the propane tank was filled in case we lose power we can still cook. Even had to get in some last minute BTS shopping for dd. Although, we did get a call from the school that depending on the conditions the schools may be used as shelters and the start off school may be delayed.
And, believe it or not, we were actually almost out of milk and bread, so I was one of those crazies out shopping! lol
This area hasn't seen a storm of this size in 100 years I have been told! Cities are evacuating, roads, bridges and subways are shutting down. Flooding is to be expected as we have already had a ton of rain this month. High winds are expected to cause major damage. Sounds fun! NOT..
So, lets recap my week, sick child on Monday, broken washer Tues morning, earthquake on Tues afternoon, brother in the hospital Wed night, big storms Thurs morning, found my freezer didn't close fully and most items had defrosted, and now a hurricane. I think I have had a pretty busy week, what do you think.
Seriously, if you are in Irene's path, please take care and stay safe. I will be on and off over the weekend as the electric allows!
Storm Tracker